Passive DNS has long been described as a "phonebook for the internet." In the past, though, it has only been associated with a domain and the IP address to which it resolves. But RiskIQ's DNS record support has a lot more to offer than just a name and phone number. Using RiskIQ's globally distributed sensors, along with terabytes of internet crawling data and partner data feeds, PassiveTotal provides insight into the depths of DNS records and their history—insight that truly enriches investigations.
The latest release of PassiveTotal now includes more of the DNS records RiskIQ has been collecting over the years. Historically, PassiveTotal has focused on displaying "A" records, which dictate the IP address a given domain should resolve to when querying DNS. These records are immensely useful but are only one of the types of DNS record that can provide analysts with interesting leads. The most recent platform update, however, also brings support for MX (mail exchanger), NS (nameserver), TXT (text), SOA (start of authority), and CNAME (canonical name) records to PassiveTotal.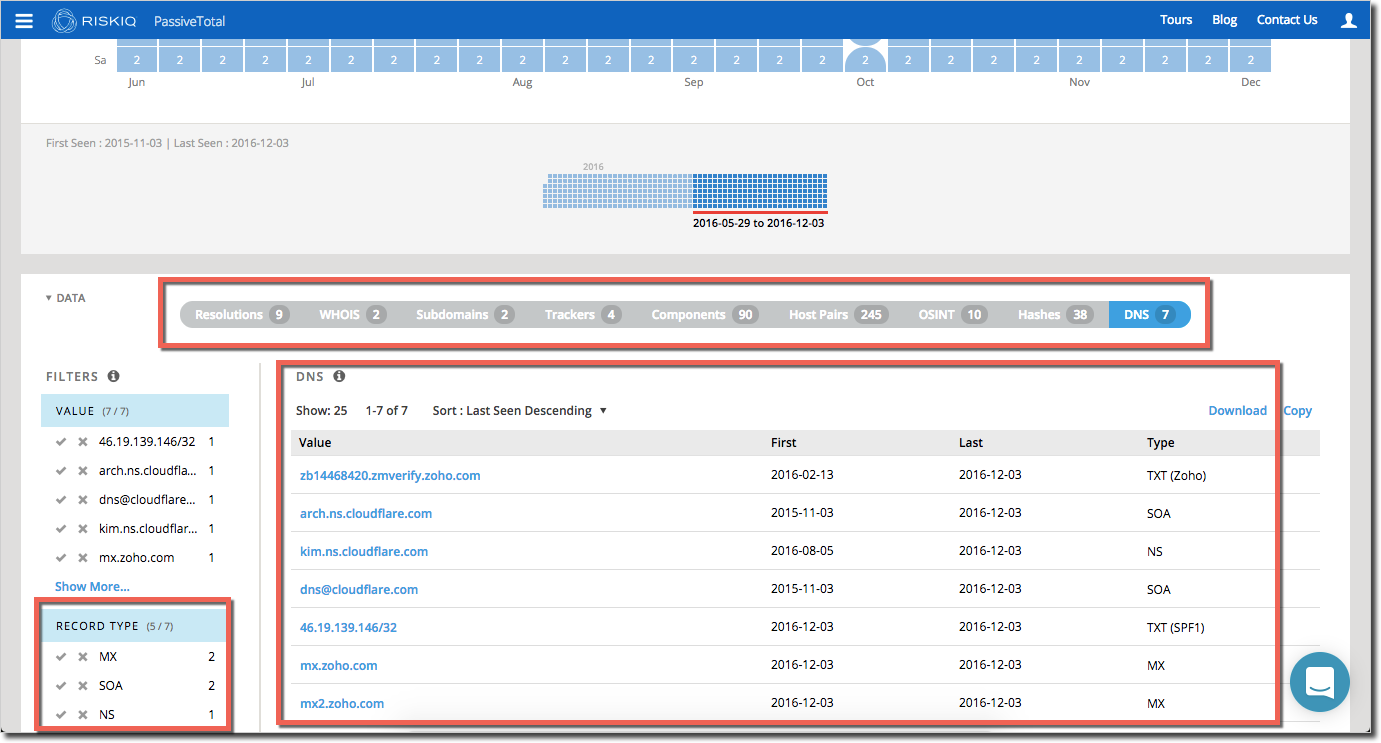 Community users of PassiveTotal will now see a "DNS" tab inside of their search results when these new DNS records are available. Similar to existing tab behaviors, users can apply various filters, add indicators to their existing projects, or pivot on new leads to perform a new search.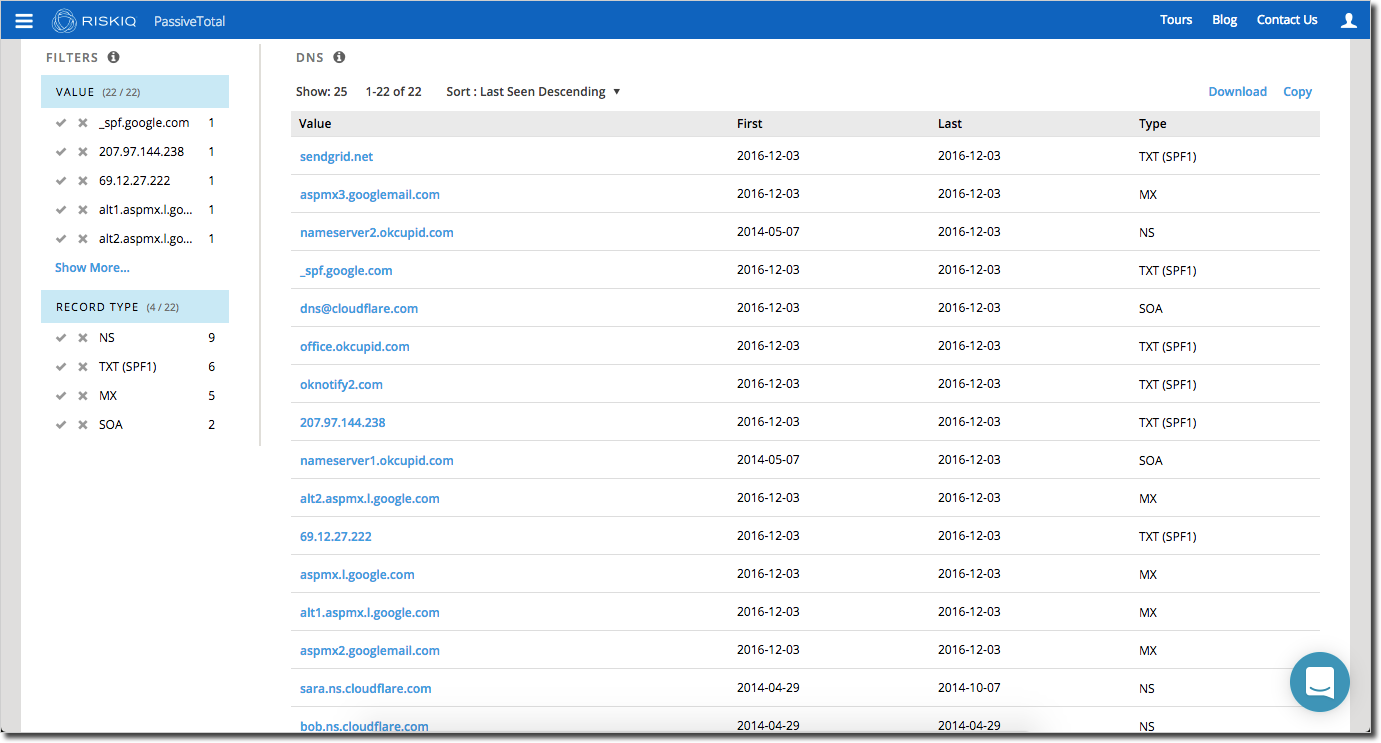 Supporting these new record types is exciting because they are proven to open up new research leads for analysts. For example, some malicious actors will stand up specific nameservers (NS records) to segment their infrastructure or configure a mail provider (MX records) to administer their command and control channel. Seeing these new records inside of PassiveTotal means an analyst can now pivot off those values to correlate more of the actor's infrastructure.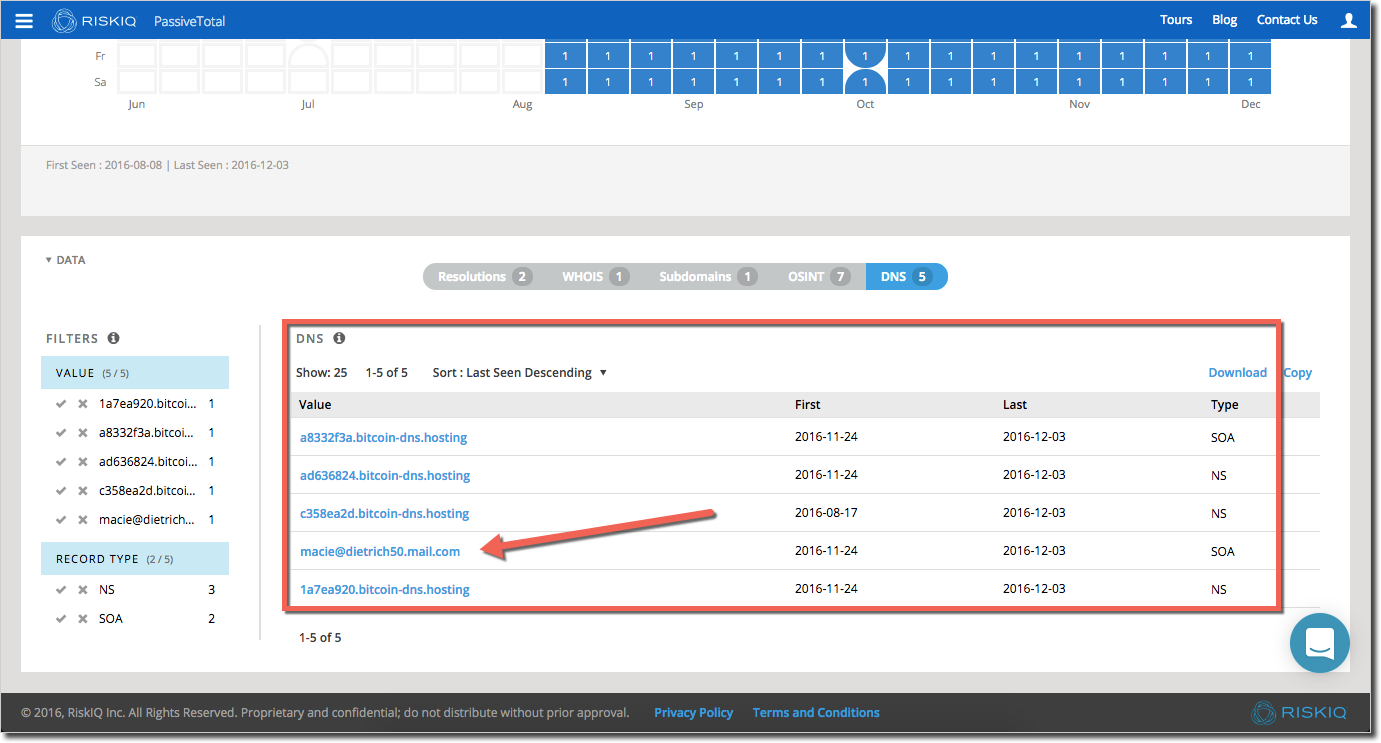 More complex record types like SOA and TXT offer unique information about adversary infrastructure. For example, when registering a domain, a valid email address is needed to complete the process. Sophisticated actors may choose to privacy protect their information, but unbeknownst to them, their original email address may get placed inside an SOA record that is associated with the DNS zone. Analysts can perform a search in WHOIS data to surface more domains registered using that email.
We've been using this new feature inside of RiskIQ for a few weeks now and have already come to rely on it as a vital data set to check when performing pivots inside of the platform. If you have a story where you found new leads because of the DNS tab, we'd love to hear it. Send your stories or other feedback over to feedback@riskiqstg.wpengine.com!
Sign up for a free PassiveTotal account to check out the new features, and see what else is new in the platform here. If you're already a user, click here to login and experience our improved DNS record support.