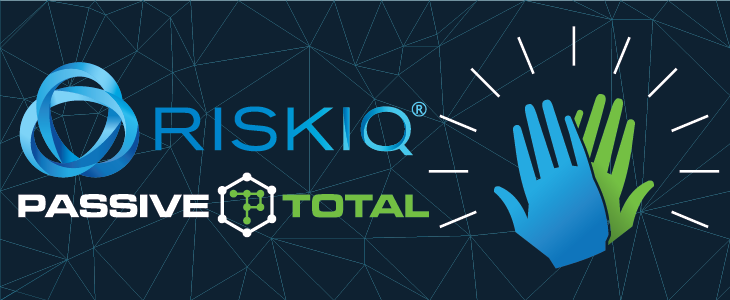 When Steve and I first launched PassiveTotal, we understood the need for cyber threat infrastructure analysis tools and were humbled and grateful for the cyber security community's enthusiasm and support. We've always prided ourselves on our analyst-first approach and the experience we offer our customers. That's why today we are very excited to announce that PassiveTotal will be joining the RiskIQ family.
Merging with RiskIQ allows us to blend our knowledge base with RiskIQ's datasets and its understanding of external facing cyber threats plaguing consumers to provide a more comprehensive cyber threat analysis solution.
Our number one priority during this transition is to continue to provide the same level of service you've come to expect from PassiveTotal and enhance your experience within the platform.
Additionally, we are thrilled to debut an updated version of PassiveTotal--with a brand new look and access to an array of additional datasets. Beginning today, registered users will now be able to pivot using both WHOIS records and SSL certificates, as well as see the RiskIQ passive DNS source in their query results. These datasets will not only be exposed through the web interface, but will also be accessible using our API and free Maltego transform set.
RiskIQ's mission and data perfectly align with the PassiveTotal mission of providing security analysts with the most comprehensive view into the adversary's infrastructure by bringing together critical data sources that allow analysts to quickly and confidently assess incidents within their networks.
Setting out to change the way cyber threat infrastructure analysis was viewed and conducted by analysts has been a fulfilling and challenging process. Teaming up with RiskIQ felt like a natural next step in our adventure and we are excited for everyone to be part of it.