For many consumers, after the turkey and football, their Thanksgiving weekend is only just getting started—in 2016, online shoppers filled e-commerce cash registers with more than $5.27 billion in sales through Black Friday. With shoppers set to exceed those numbers this year, cyber threat actors are looking to carve up a nice big slice of the pie for themselves. According to RiskIQ's Black Friday e-Commerce Blacklist, our look into five leading Black Friday e-tailers (brands you're very likely to leverage this shopping season), threat actors will do it by leveraging popular eCommerce brands to fool user traffic looking for Black Friday deals, coupons, and information.
For shoppers, what starts out as an attempt to fulfill their holiday shopping checklist for pennies on the dollar can turn into a financial nightmare. For brands, what begins as an event that significantly boosts sales can turn into a security fiasco that erodes the trust between them and their customers and prospects.
Last year, consumers spent $9.36 billion online over the four-day Black Friday weekend, of which $1.2 billion was driven by mobile shopping. Meanwhile, thousand of apps, blacklisted for being dangerous, are hosted by app stores around the world, even the Apple App Store and Google Play. These apps use the branding of well-known retailers to attempt to fool users into entering credit card information, which opens them up to potential financial fraud. Some fake apps contain malware that can steal personal information or lock the device until the user pays a ransom. Others encourage users to log in using their Facebook or Gmail credentials, potentially exposing sensitive personal information.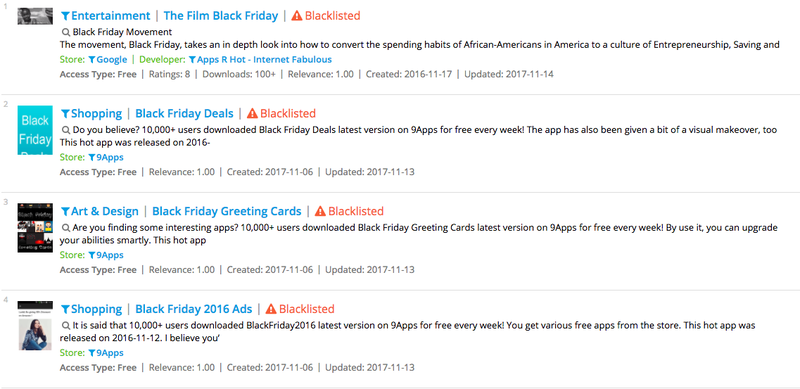 But users are susceptible to fraud anywhere on the web—not just mobile. Landing pages that fraudulently use branding to phish for sensitive information or get users to click on links that redirect them to pages that host malware are also prolific.
To analyze the methods threat actors will employ this shopping season and where they're targeting their malicious efforts, RiskIQ ran a keyword query of our Global Blacklist and mobile app database. In the mobile app space, we looked for instances of the brand names of five of the leading e-tailers in the United States used in malicious and fraudulent mobile apps. In our Global blacklist, we searched for instances of each brand name appearing alongside the term 'Black Friday" in the malicious URL or cause page URL (pages that send users to a page hosting something malicious).
The results show that by leveraging e-tail brands by name to create malicious mobile apps and landing pages, Black Friday is a feast for threat actors. The report found:
4% Black Friday-themed mobile apps were blacklisted for being malicious or fraudulent

The five leading Black Friday e-tailers are linked to multiple instances of Phishing, Malware, and Spam leveraging a fraudulent Black Friday message

Those five brands are also linked to multiple blacklisted apps infringing on their brands
The source of RiskIQ's Blacklists is our comprehensive collection of internet data, gathered by our exclusive virtual users by scanning, crawling, and passively sensing the internet—including web pages, mobile apps and stores, and the most popular social networks. RiskIQ's crawling technology covers more than 2 billion daily HTTP requests, 783 global locations across more than 100 countries, 20 million mobile apps, and 300 million domain records.
Download the full report, Black Friday E-commerce Blacklist, for more findings as well as ways to keep you and your family safe while shopping online this Holiday season.