This Thanksgiving weekend, online threat actors are poised to claim a pretty big slice of the e-commerce pie.
Online shoppers filled e-commerce cash registers with more than $19.6 billion in sales over Black Friday and Cyber Monday in 2017, and are poised to spend even more this year. To show how cyber threat actors will target this enormous spike in revenue, RiskIQ released its 2018 Black Friday E-commerce Blacklist, which analyzes the results of a keyword query of our Global Blacklist and mobile app database focusing on the ten most trafficked e-commerce sites during Black Friday 2017 and five of the leading e-tailers in the UK.
By setting up fake mobile apps and landing pages with fraudulent branding, they fool consumers into downloading unsafe apps and visiting pages that redirect them to other fraudulent or malicious sites. Nearly 40 percent of the massive influx of spending caused by Black Friday and Cyber Monday in 2017 took place on mobile devices, making shoppers increasingly at risk of encountering threats in the mobile space.
The threat facing e-commerce this holiday shopping season is even more grave given the rise of Magecart, a collection of digital credit card-skimming groups that have stolen the records from an untold number of consumers across thousands of sites including British Airways and Ticketmaster. One of the leading traffic-getters on Black Friday, Newegg, has already been affected by Magecart earlier this year.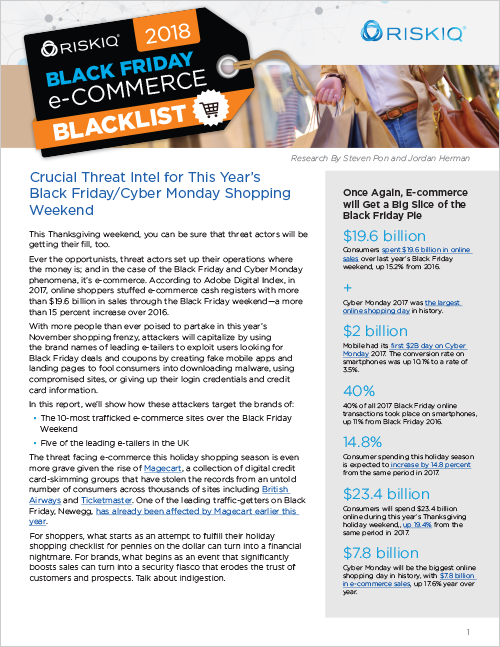 For shoppers, what starts as an attempt to fulfill their holiday shopping checklist for pennies on the dollar can turn into a financial nightmare. For brands, what begins as an event that significantly boosts sales can turn into a security fiasco that erodes the trust of customers and prospects. Talk about indigestion.
The report provides crucial intel for this year's Black Friday/Cyber Monday shopping weekend, such as:
- Of Black Friday-specific apps: more than 5 percent of mobile apps out of the 4,331 total that can be found searching "Black Friday" in global app stores is blacklisted as malicious.
- Threat actors have focused on the top five leading brands in e-commerce. These brands have a combined total of 6,600 blacklisted apps that contain their branded terms in the title or description.
- The top-10 most trafficked brands averaged over 17 blacklisted apps containing both the branded terms and "Black Friday," in the title or description, showing clear intent by threat actors to leverage the shopping holiday.
- RiskIQ has detected an average of 89,837 monthly instances of magecart, the digital credit card-skimmer, between August and October 2018.
The source of RiskIQ's blacklists is through the collection of internet data, which it gathers by scanning, crawling, and passive-sensing the internet—including web pages, mobile apps and stores, and social websites and apps. RiskIQ's crawling technology covers more than 300 million mobile devices, 1.8 billion HTTP sessions, hundreds of locations across the world, 40 million mobile apps, and 600 million domain records.
Read the entire 2018 Black Friday E-commerce Blacklist report here.