With the cyberthreat landscape quickly shifting to digital channels, the focus and concern of CISOs have now moved squarely outside their organizations' firewalls.
To better understand cybersecurity leaders' prevailing attitude toward the digital threat landscape, RiskIQ surveyed 1,691 of them from across the U.S. and U.K., from multiple verticals including enterprise, consulting, government and education. The CISO survey results show that relentless, internet-scale threat campaigns, and the sense that cybersecurity teams are ill-equipped to stop them, are near-universal pain points.
With rapidly escalating digital threats now well-documented and acknowledged—the survey revealed that 89.1 percent of all information cybersecurity leaders are concerned about the rise of digital threats—the issue giving CISOs the most anxiety aren't actually the threats themselves, but a troubling shortage of staff and viable technology that can help stem the tide.
A lack of experienced staff to monitor and protect organizations from threat campaigns such as malvertising, phishing, and state-sponsored attacks will only get worse as businesses continue to expand their digital footprints in the pursuit of growing their business. Unsurprisingly, 60 percent of respondents expect digital threats to surge as their organizations increase online engagement with customers.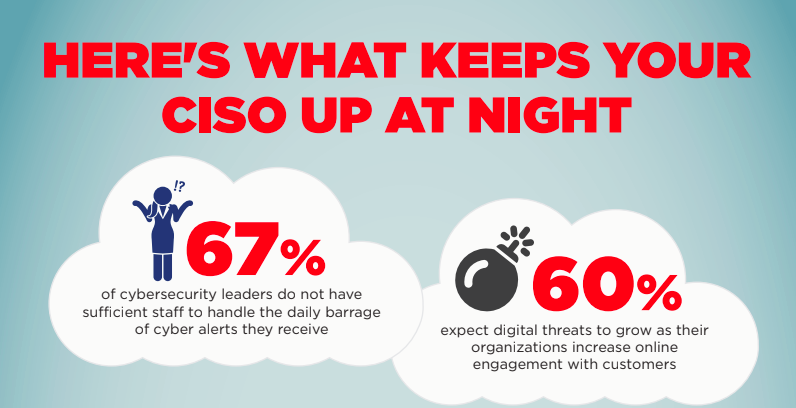 As cybercriminals take advantage of vulnerabilities and lax cybersecurity oversight across a business's web, social, and mobile assets, 67 percent of our respondents claimed not to have sufficient staff to handle the daily barrage of cyber alerts they receive. This sentiment aligns with findings in the IDG Connect: 2017 State of Digital Defense Research Report, published in October of 2017, which showed that 68 percent of IT organizations have no to modest confidence to manage digital threats despite a majority significantly increasing their near-term digital defense investments.
To turn the tables, cybersecurity teams must adopt a digital defense platform strategy built on comprehensive internet data to reduce the cost and manpower needed to defend their digital attack surface. By understanding their exposures, expediting threat investigations and monitoring their assets, organizations can preempt targeted external attacks and negate their short-handedness.
By leveraging the insight, automation, and protection of our Digital Threat Management Platform, RiskIQ customers reduced costs of cybersecurity team investigations by up to 75 percent, from cut time and resources needed to respond to threats, exploits, and cyber adversaries.
Learn more about RiskIQ's platform, and download the infographic here>