Everyone uses the internet, both the good guys and bad guys. In the ongoing chess match between businesses expanding their digital presence and the actors trying to exploit their growing attack surface, those without access to automated internet reconnaissance for bad or good, are at a tremendous disadvantage. For the good guys, the time has come to embrace the power of a digital defense platform strategy built on comprehensive internet data to reduce business risk and the cost of defending their attack surface.
Businesses can no longer expect to be spared by malicious campaigns, no matter their size or industry. State-sponsored attacks are rampant, and each minute, RiskIQ blacklists .3 mobile apps, 100 phishing pages are published, 14.5 malicious ads traverse the digital advertising ecosystem, and 4,300 people get exposed to malware from content theft sites. This modern digital threat landscape moves too quickly for security teams to rely on disparate tools and manual processes.
Without a platform-based approach, reducing the time to respond to threats, exploits, and cyber adversaries is difficult (if not impossible) and can lead to IT department budget overruns. A platform's interoperability with security tools and automated processes also makes it key to improving security infrastructure.
To explore the return on investment (ROI) a digital threat management platform-based approach can deliver, Frost & Sullivan released its "The Digital Threat Management Platform Advantage: Justification and Resource Optimization" report. The report established a Cyber Resiliency Framework businesses can use to properly invest in and build a Digital Threat Management program that defends their attack surface in the face of mounting external threats.
The framework lays out the five essential elements to counter digital threats:
1) Defend - continuously improve cyber protection platform and harden defense tools
2) Prepare - use intelligence-led assessments of systemic vulnerabilities and conduct cyber drills/simulation exercises
3) Absorb - the organization's ability to detect breaches and prevent attacks if possible, while always on standby for next attack/breach
4) Recover - reduce the time to respond, know how to respond, and have organization-wide stakeholder involvement in the process
5) Adapt - enhance organizational cybersecurity consciousness and apply lessons learned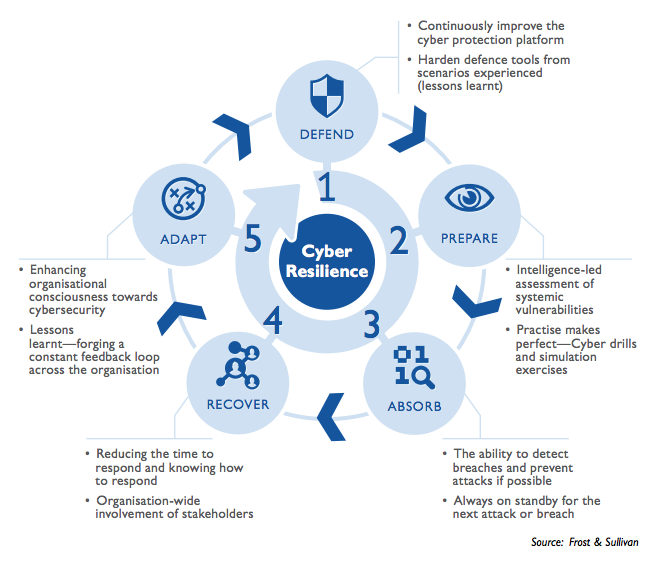 According to the report, RiskIQ's enterprise-class Digital Threat Management Platform addresses all five elements of the resiliency framework to slash our customers' costs related to security outside the firewall by as much as 75 percent, while also systematically addressing the broad digital risks across the web, social, and mobile channels.
Download the report to find out how RiskIQ provides the insight, automation, and protection needed to understand digital footprint exposures, expedite threat investigation and monitoring, and preempt and protect against targeted external attacks. In the report, you'll see real examples of how we helped a global payment services firm, a national bank, and a managed services provider accelerate their technical capabilities to combat digital threats.