The RiskIQ Internship program educates and inspires young professionals, giving them the confidence and experience they need to take the next step in their career. This year, the annual Internship program focuses on our engineering and development department.
Earlier this month, you read about interns Carina and Johanne's experience tackling the first half of their six-week internship on the RiskIQ Product Team. Here's what they had to say about the second half:
We are in our last week of our summer internship at RiskIQ and the time has flown by so quickly. The second half kicked off in Las Vegas for the BlackHat USA Conference. Here, we were lucky enough to attend several networking events, sit in on customer meetings, talk to lots of interesting people from the security industry, and help out with the successful Crimeware party co-hosted by RiskIQ.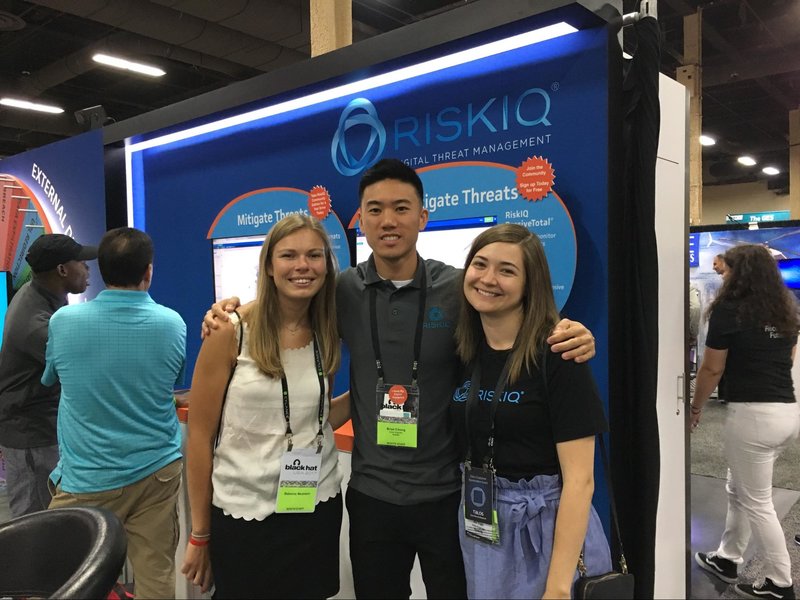 Back at the San Francisco HQ, we started with our individual projects.
Carina:
With a background in work and organizational psychology, I was excited to take on a project that dealt with the culture at RiskIQ. There is something unique with the Bay Area and the companies located here—they have to be innovative and always challenge the status quo.
Businesses in the Bay Area aren't just innovative when it comes to products and services, but also for their employees, workplace, and culture. The People and Culture department at RiskIQ wants to build a workspace that empowers us, so it sends out a survey each quarter that serves as a tool to create and amplify a RiskIQ culture that will increase company-wide performance. In connection with this survey, I was set to dig a little deeper into things that could positively impact the index.
To gain a better understanding of the background, I read the book behind the methodology used to shape the survey and had different meetings with co-heads in the People and Culture department. Next, I facilitated an open discussion with the Product team at RiskIQ to identify key focus points around what makes the RiskIQ culture and what we can do to improve adaptive performance. The project ended with a report on findings and a template for future surveys.
Johanne:
Throughout the summer, I have been working on an individual project concerning the General Data Protection Regulation (GDPR). The new EU privacy regulations will apply to all companies collecting and processing personal data about European citizens, and will, therefore, be relevant to many American companies.
Specifically, I have been looking into how RiskIQ customers may be affected by GDPR, and I have tried to address how we can help them make sure they are securely collecting data. Throughout the project, I have gotten a better understanding of common privacy issues on the web, and how companies can address these them. Because I am particularly passionate about Privacy Policy and Data Protection, this project has been a great opportunity for me to get valuable insight into privacy from a cyber security perspective.
As we worked on these projects, Carina and I have spent the last week wrapping up the two courses made available for us these nine weeks: Internet Fundamentals and Intro to Security. Here, we have looked into blockchain, encryption, authentication and public key infrastructure, which we both found incredibly interesting—especially blockchain!
Last but not least, RiskIQ would not be the same without the great people and social events. The last weeks we have been celebrating birthdays with cake in the office, game nights, happy hours, and a pilates class.
This summer at RiskIQ has been unforgettable! We leave for Norway with valuable knowledge about cybersecurity and how it is to work for a tech company in the Bay Area.
Be sure to contact hr@riskiqstg.wpengine.com to find out more about the RiskIQ internship program.