The RiskIQ Internship program is intended to educate and inspire young professionals, giving them the confidence and experience they need to take the next step in their career. This year, the annual program focuses on our engineering and development department.
Though a large number of candidates drawn by the opportunity to work side by side with RiskIQ employees on important projects apply for the program, the admission process is highly selective. Those who are recruited come from universities all around the world, with different backgrounds and a broad range of skills and expertise. However, all RiskIQ interns have one thing in common: a passion for cyber security and hunger to learn.
After completing the program, RiskIQ interns are equipped with the tools they need to thrive in cyber security—and as a result, we're proud to hire many graduates as full-time employees. Our most recent graduates came to us from the Norwegian School of Economics (NHH) located in Bergen. After almost six weeks of immersion at RiskIQ on the Product team, Carina Johannessen and Johanne Falck-Pedersen are amazed by how much they've learned about the cyber security business, as well as everything that comes with working at a San Francisco tech startup.
Carina, who is pursuing her master's degree at NHH, where she specializes in Management Accounting and Control, is head of information in the student union's Marketing Group and sits on the board of the school's Accounting Group. She was drawn to the internship by RiskIQ's commitment to developing young talent.
"I wanted experience in a company that values development, creativity, and innovation, she said. "I was very interested in working as a product intern, as I wanted to learn more about how my background in business was integrated into the tech industry. I also wanted to work in a company where I would be challenged, where I would get to work on a variety of tasks and do meaningful work."
Johanne just graduated from NHH with a master's degree in Business and Administration, specializing in Strategy and Management. Passionate about data protection, privacy, and IT-Risk, the internship program most appealed to her because of our culture of innovation and product development.
"With a business student's perspective, I have become more and more interested in innovation and the intersection between business and technology," she said. "RiskIQ appealed to me because of this, as it is a growing technology company with a dynamic and innovative working culture."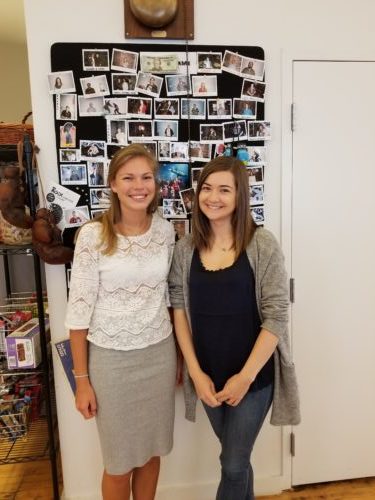 Throughout the internship, Carina and Johanne will be given exciting product management projects with a real business impact, but they will also complete a 10-week cyber security education course. They started slowly by kicking off their first week with a lesson on Internet fundamentals with RiskIQ Sales Engineer Jeffrey Lawton. Jeffrey gave them a crash course in everything from servers and firewalls to DNS, ARP, and TCP/IP protocols, providing clever analogies that made difficult concepts easy to understand. The interns then sat in on an 'Intro to Security' session in which RiskIQ threat researchers Yonathan Klijnsma and Darren Spruell coached them on applied cyber security concepts to help them to start thinking like a security engineer.
Once acclimated, Carina and Johanne's first project was an analysis of the coverage of workspaces from FireHOL IP lists, which introduced them to RiskIQ's suite of products. The interns jumped into it without knowing much about our blacklists, how our virtual users work, or how we detect different threats for our customers—but everyone at RiskIQ was available to help, especially their supervisor, Product Manager Vamsi Gullapalli, who was never more than a floor away. After only two weeks, Carina and Johanne ended the project by confidently presenting their findings to CEO Lou Manousos.
Carina and Johanne's latest project involves taking a look at the pricing of RiskIQ's Digital Footprint product, including current customer contracts, to build a framework for Digital Footprint segmentation. During this project, the interns spoke to account executives to get a better understanding of the structure of different contracts to validate the pricing of products. The project allowed them insight into the pricing regarding the each region and industry, as well as the different ways RiskIQ works with channel partners. At the end, the interns presented their findings at a Digital Footprint Retrospective and Planning meeting.
Despite the demanding schedule, the internship program isn't all hard work. Over the past six weeks, Carina and Johanne have attended several RiskIQ social and community service events, including celebrating San Francisco Pride week in the office, participating in a gourmet chocolate tasting, and discovering their vocal talents at an "unforgettable" intern karaoke night. They've also enjoyed volunteering at the local homeless shelter by helping serve meals.
Carina and Johanne finished off the first half of the program by joining the Product Team for the famous BlackHat USA Conference in Las Vegas, but stay tuned for updates on what they're up to over the next few weeks.
Be sure to contact hr@riskiqstg.wpengine.com to find out more about the RiskIQ internship program.