It takes a community to tackle digital threats.
As organizations embrace new digital channels to connect with customers and employees, their attack surface grows exponentially. Cybercriminals are exploiting new attack vectors created across these channels—exposures which exist outside the protection of firewalls and traditional security controls.
Today, RiskIQ is introducing a new way for threat hunters and threat defenders to utilize our vast internet data sets and comprehensive intelligence about the web and how organizations appear outside the firewall.
Building on the idea that the security community is made better by being able to share information, insight, and intelligence, RiskIQ Community Edition products are free versions of our software that enable easier, more thorough investigations as well as the ability to gain insight into the digital footprint of organizations.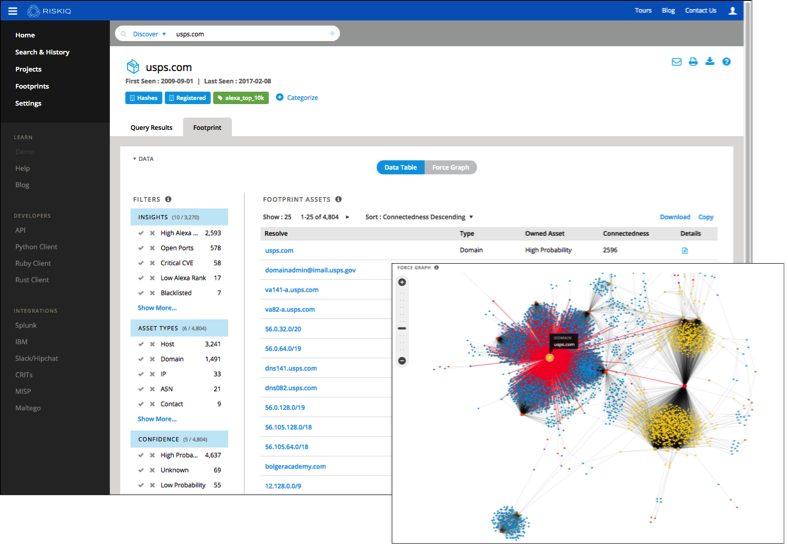 Free award-winning tools that help get the job done
New features in our Digital Threat Management platform improve the discovery, investigation, and response to digital threats. Some of these new features include:
Automated Digital Footprint – Leverage RiskIQ's comprehensive data sets and predictive security analytics to automatically generate a visual graph and asset list of connected, internet-facing assets across large and complex entities. This extensive view enables threat defenders to better understand their external digital assets, provide direction to penetration testing teams, and inform vulnerability and asset management programs.

Curated PassiveTotal Projects

– Get started with projects featuring adversary investigations, compromised sites, phishing campaigns, malware, and newsworthy events, all curated by RiskIQ and third party researchers. These curated projects provide excellent starting points for investigating threats and enriching security tools to potentially uncover ongoing attacks.

Collaboration Capabilities

– Utilizing PassiveTotal projects, threat hunters can organize their investigations and share their projects with other security personnel, both inside and outside their organization. Add infrastructure components like domains, WHOIS registrant information, IP addresses, web analytics trackers, SSL certificates, and more to projects. Monitoring capabilities notify investigators about changes to infrastructure to proactively defend against dynamic threats.
We are making PassiveTotal and Digital Footprint Community Editions available for free, starting today. To learn more, read our Press Release and sign up for free by visiting www.riskiq.com/community.