Cybercrime is quickly growing in frequency, complexity, and sophistication. As fast as new digital business strategies and initiatives advance markets and propel companies ahead of competitors, criminals find new ways of using those digital assets against the business. Malware, malvertising, and phishing attacks, rogue apps, domain and brand infringement, and social impersonation can cause business disruption and even material loss.
To gauge how RiskIQ customers are using our platform—and the vast repository of internet data that powers it—to gain visibility into their attack surface and monitor their digital presence for these threats, we recently conducted our 2018 Product Benchmarking Survey, which asked them to describe the benefits they've experienced since implementing RiskIQ. With most organizations dealing with a blind spot comprised of thousands of unknown and unmanaged internet-facing assets that act as inroads for cyber attacks and data breaches, many companies come to RiskIQ looking for increased visibility into their attack surface outside the firewall. Of surveyed customer organizations, 100% increased its visibility into external threats from internet-facing assets, with 65% decreasing their Mean Time To Response (MTTR) to incidents within a week of implementation.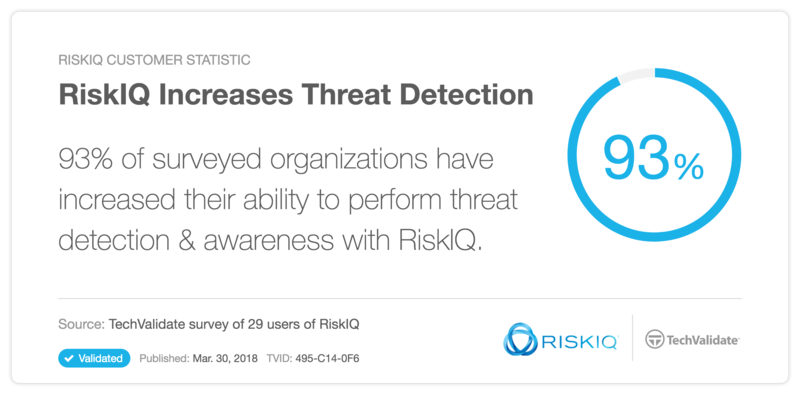 A Global 500 Telecommunications company reported that they use RiskIQ for this very reason—monitoring the internet for infringing content to help protect its brand. Its CISO explains that "We are expanding our use of the platform to include more focus on a proper inventory to help identify a true attack surface and to then update processes and workflows to be more efficient and effective. RiskIQ is also our sole takedown vendor for all infringing or malicious content."
With RiskIQ, the company substantially increased their attack surface visibility, discovered more than 30% of unknown internet-facing assets, decreased their Mean Time To Response by within one week, and now enjoys an ROI between 76 – 100%.
Because 75% of incidents that lead to data breaches that originate externally—almost half of which target unknown and thus unmanaged digital assets according to the Verizon Data Breach and Incident Report, many customers also turn to RiskIQ seeking better methods of detection and protection against threats outside the firewall. In fact, 79% of respondents reported that fear of information phishing was the principal motivator for implementation of the RiskIQ platform. Other reported high-ranking threats include: domain and subdomain infringement and typosquatting (78%), malicious and rogue mobile applications (63%), malvertising (33%) and shadow IT (32%).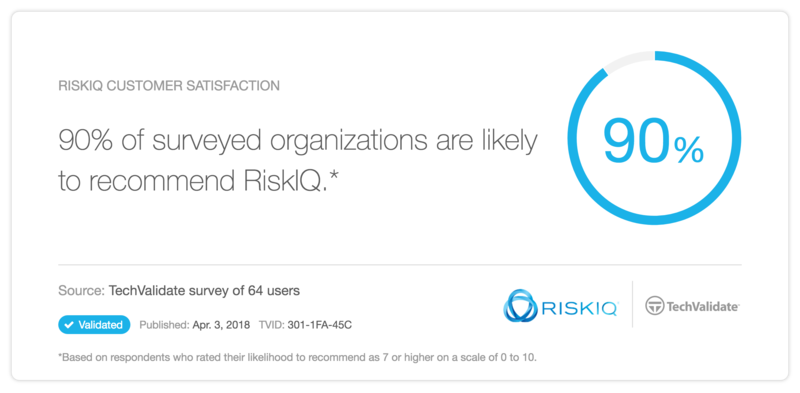 RiskIQ helps our customers in all types of ways. Be sure to visit our success story page to learn more about our customers' success, and contact us with any questions about how we can help your organization.