It's incredible to think how far organizations have come in gaining visibility into their enterprise in just the last five years. Analysts used to have conversations about how and where to enable logging. One quantum leap later, and these conversations are now about how optimizing queries to get the most out of the vast amounts of internal data available to them.
Today, analysts operate with an extreme amount of context, but their own collection is just one side of what their organization looks like. The most successful businesses recognize that they must pair this internal data collection with external intelligence to have real visibility into their attack surface—and how it appears to would-be attackers.
RiskIQ has worked to provide this external view for over a decade, collecting and storing internet data to feed technology that functions like a TIVO for the Internet, giving security teams the ability to look back at attacks and understand why and how they happened, as well as to detect new ones. Over that time, RiskIQ has built unmatched data sets found nowhere else that power several defense-based products and enables a community of over 85,000 security practitioners to conduct thorough investigations into cyber security threats.
Although it fuels threat investigations worldwide, RiskIQ's data becomes even more powerful when combined with endpoint telemetry. That's why RiskIQ, the global leader in attack surface management, is excited to announce that we've partnered up with CrowdStrike to deliver RiskIQ Illuminate for Falcon, a solution that offers truly unique visibility into cyber security threats by pairing unmatched external intelligence with leading endpoint-visibility data sets.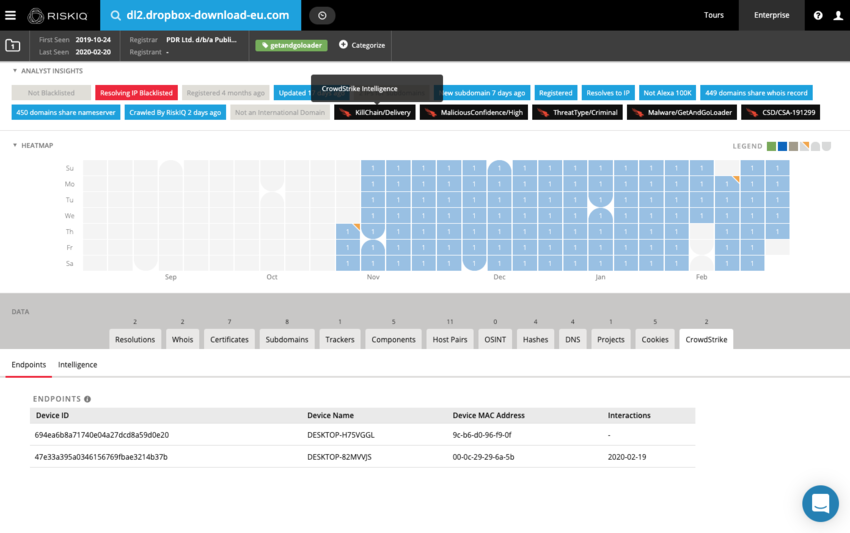 CrowdStrike customers can trial and install the RiskIQ application through the marketplace within the Falcon platform to access this data, which empowers them to accelerate their investigations, increase their visibility, respond more effectively to threats, and maximize the impact of their existing security solutions. As you conduct an investigation within RiskIQ, the application automatically identifies impacted endpoints and overlays CrowdStrike Intelligence*. Analysts save time—a scarce resource when dealing with a breach—and gain a complete understanding of all related infrastructure to a given threat actor to stay a step ahead of their adversaries.
Key benefits to the application include
Creates complete security visibility by bridging external and internal threat intelligence data in one location

Enriches investigations by automatically searching internal endpoints for indicators of compromise as analysts pivot

Displays CrowdStrike Intelligence directly alongside detailed Internet collection data

Accelerates hunting or incident response engagements by surfacing related or overlapping infrastructure data

Identifies any visibility gaps within the organization by analyzing CrowdStrike endpoint coverage and comparing it with the organization's attack surface
Making Real Connections
With every year that passes, we see more businesses transforming their processes to thrive in the digital era by adopting cloud, automating development operations, utilizing microservices, and switching to a serverless architecture. There's no one-size-fits-all process to digital transformation, but it's maturing, and with that comes an increased risk in both direct and unintentional compromises of business assets. Now, more than ever, organizations need to measure their attack surface and ensure they have resilience baked into their documented response procedures—RiskIQ Illuminate for Falcon is a powerful tool in their arsenal.
By no means have we solved cybersecurity, but RiskIQ has advanced rapidly in internal telemetry and providing the context needed to investigate and respond to threats. Those conversations on how and where to enable log collection were only had five years in the past, but it might as well have been a lifetime ago. With RiskIQ Illuminate for Falcon, you're on the cutting edge of defense by combining the most robust data available to identify the most useful insights. Learn more about the RiskIQ Illuminate app here.