One of the top priorities for security teams is taking the necessary steps to protect the brand, a key part of the attack surface and the identity of the digital enterprise. However, it's challenging to keep track of the ever-changing digital landscape, keep tabs on ever-evolving threat actors, and feel confident you have the tools and relevant intelligence to keep the brand protected. Recently, COVID-19 has made brand protection even more complicated, exponentially increasing the volume of threats to businesses and leaving organizations more vulnerable to threat actors.
The Challenge:
In the digital age, your brand is your business. Knowing how your brand is being leveraged across the internet, both legitimately and by rogue actors, is crucial. Fake mobile apps, social media pages, phishing pages, and typosquatting domains and subdomains can all fool employees and customers, eroding the trust in your brand and acting as an inroad to your internal network.
If you are online, you're at risk. If you are at risk, you need protection and actionable intelligence.
What Types of Events Are the Biggest Threats to Brands?
Rogue threats are not in the purview of traditional security controls and can wreak havoc without security teams ever knowing about them. RiskIQ brand protection tackles the six leading rogue threats that affect businesses:
Phishing:

Sites that impersonate an organization to phish their users, customers, prospects, or partners.

Domain Infringement:

Third party owned domain and subdomain names that contain or are confusingly similar to an organization's official domains and brand names.

Rogue Mobile Apps:

Mobile apps impersonating or claiming false affiliation with a brand, official applications reported in unauthorized app stores, or apps containing mobile malware targeting the organization's official app users.

Social Media Impersonation:

Social media accounts impersonating an organization on Facebook, Twitter, LinkedIn, Instagram, YouTube, and Pinterest.

Brand-Lure Malware:

Use of official branding such as product names or logos in pages delivering malware.

Data-Leakage:

Stolen customer data, such as credit card information, as well as other leaked company data, including employee emails or internal data, posted in the open web, offered for sale, or otherwise made available to third parties outside the organization.
Our Solution:
With RiskIQ, discover and eliminate fraudulent brand impersonation, unify intelligence, pinpoint data leaks and abuse, and take action to mitigate. Many organizations get additional benefits—speed, capacity, scale—by turning to managed intelligence services. Our dedicated experts tune workspace configurations and assist with alert takedown triage and mitigation efforts.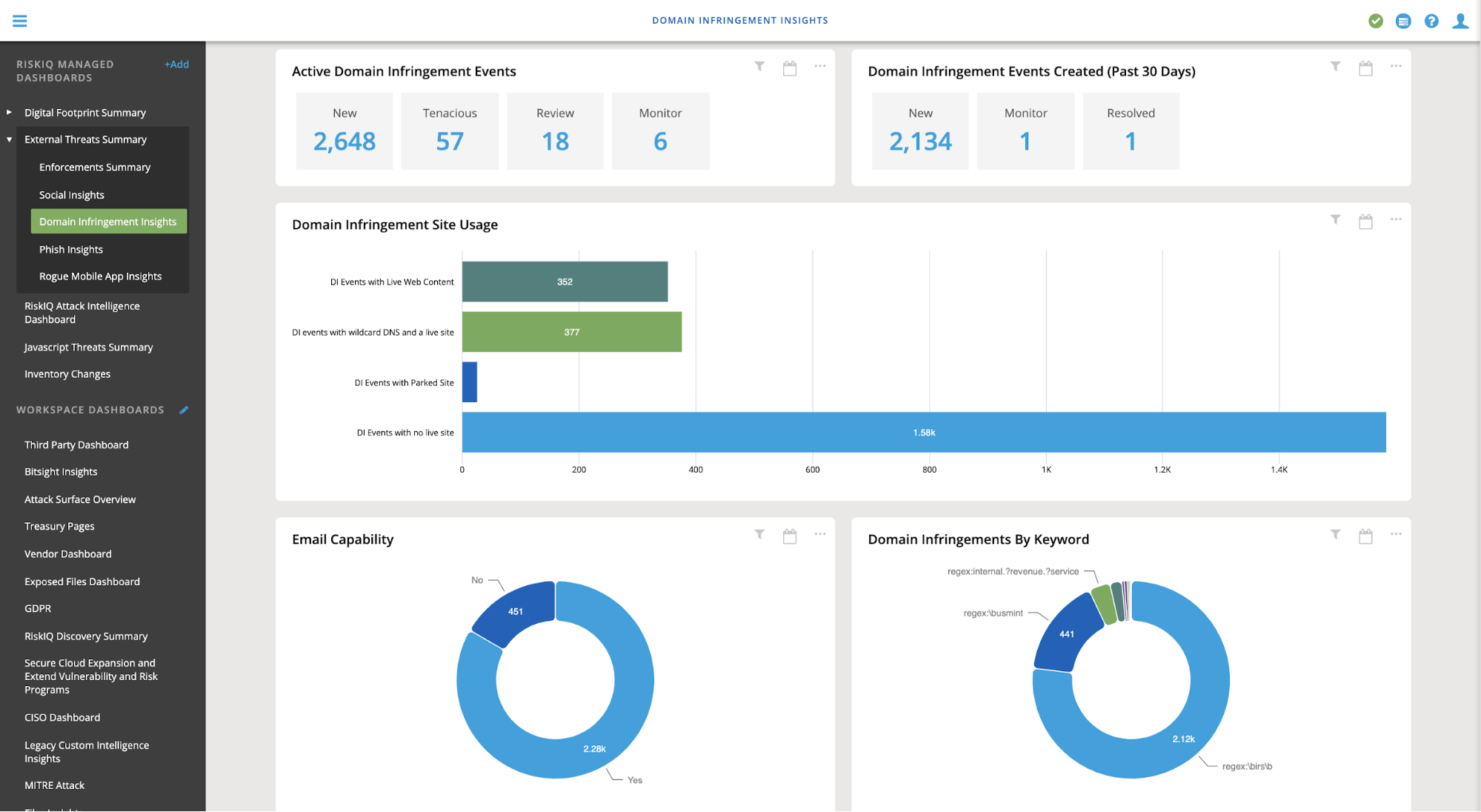 Key Features:
Attack-Surface aware detection of brand threats and data leakage

Comprehensive coverage across open web, mobile app stores, social media, and deep and dark web sources

Granular policy controls and extensive global proxy network to pinpoint advanced threats, customize detection, and evade attackers' obfuscation techniques

Customizable real-time alerts and reports 

Attribute and identify attackers, including takedown mitigation

Continuous automated monitoring of threats over time

Robust API and integrations with popular tools

Expert support and guidance from experienced RiskIQ analysts
How do you Discover and Eliminate Brand Impersonation?
The frequency of brand attacks can overwhelm security teams. Our global network of virtual users use a combination of threat feeds and configured searches for brand keywords to encounter threats, including Phishing, Domain Infringement, Rogue Mobile Apps, Social Media Impersonation, and Brand-Lure Malware, the same way that victims do. Virtual users closely mimic human behavior in the way they navigate websites and use a broad range of geographic locations, OS and browser-types, and other characteristics to catch targeted attacks by threat actors trying to evade detection.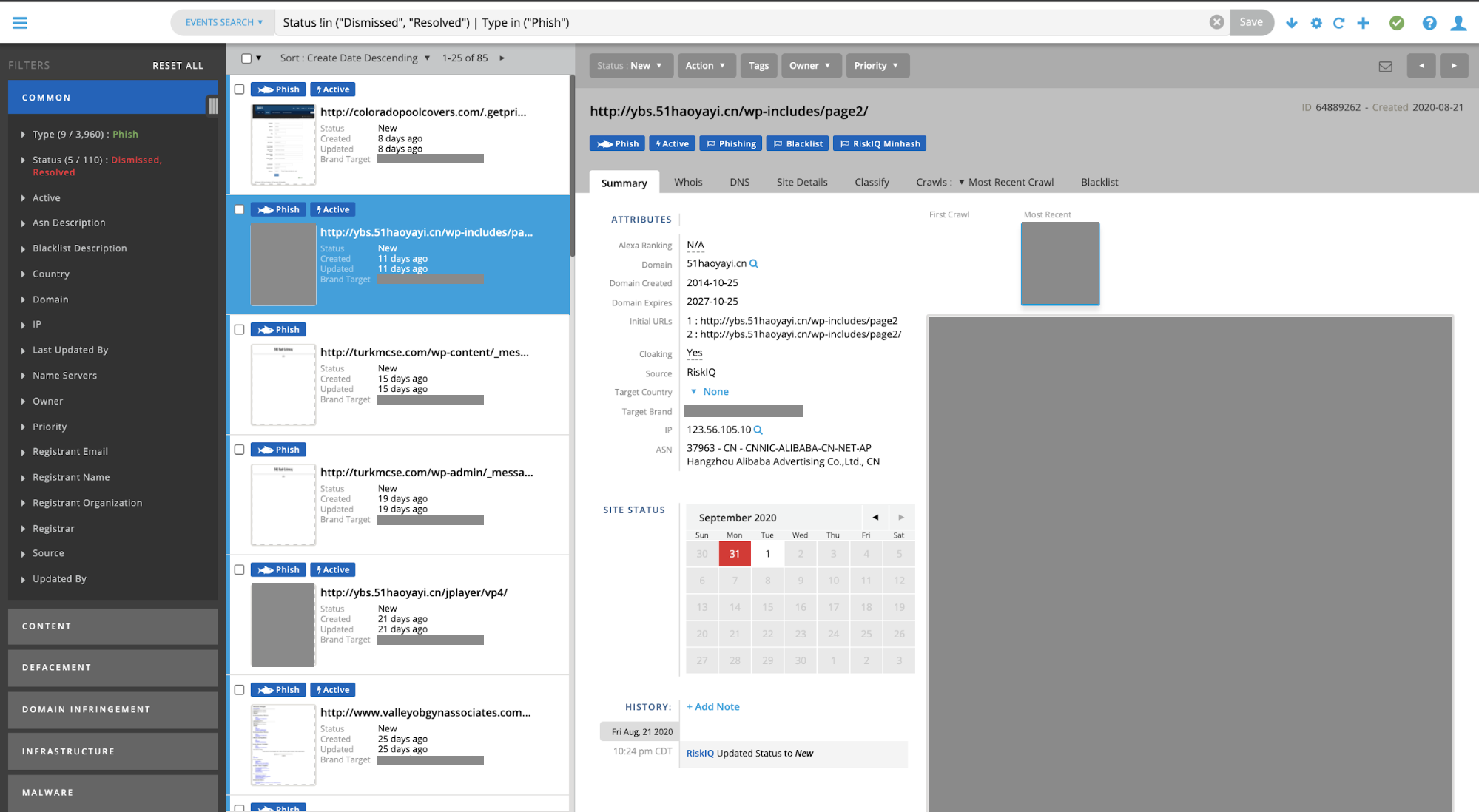 Why Is It Important To Unify Intelligence?
Security teams need to gain visibility over their digital footprint to extend protection to their public-facing assets in order to optimize their detection of threats and intelligently differentiate between legitimate assets and rogue sites, apps, or social profiles that pose a risk to the organization. External Threats automatically maps organizations' attack surface in order to leverage that information to drive accurate and comprehensive detection and monitoring of brand impersonation, abuse, and data leaks.
How Do You Pinpoint Data Leaks and Abuse?
Virtual users use a combination of API integrations and virtual user searches to detect stolen customer data, such as credit card information, leaked employee credentials, or other leaked company data. RiskIQ's flexible policy framework and fine-grained controls also enable powerful detection customization and searching for other brand abuse threats, such as scams tailored to an organization's industry, region, or other relevant business context.
How Can We Act Fast in Mitigating and Takedown of Our Threats?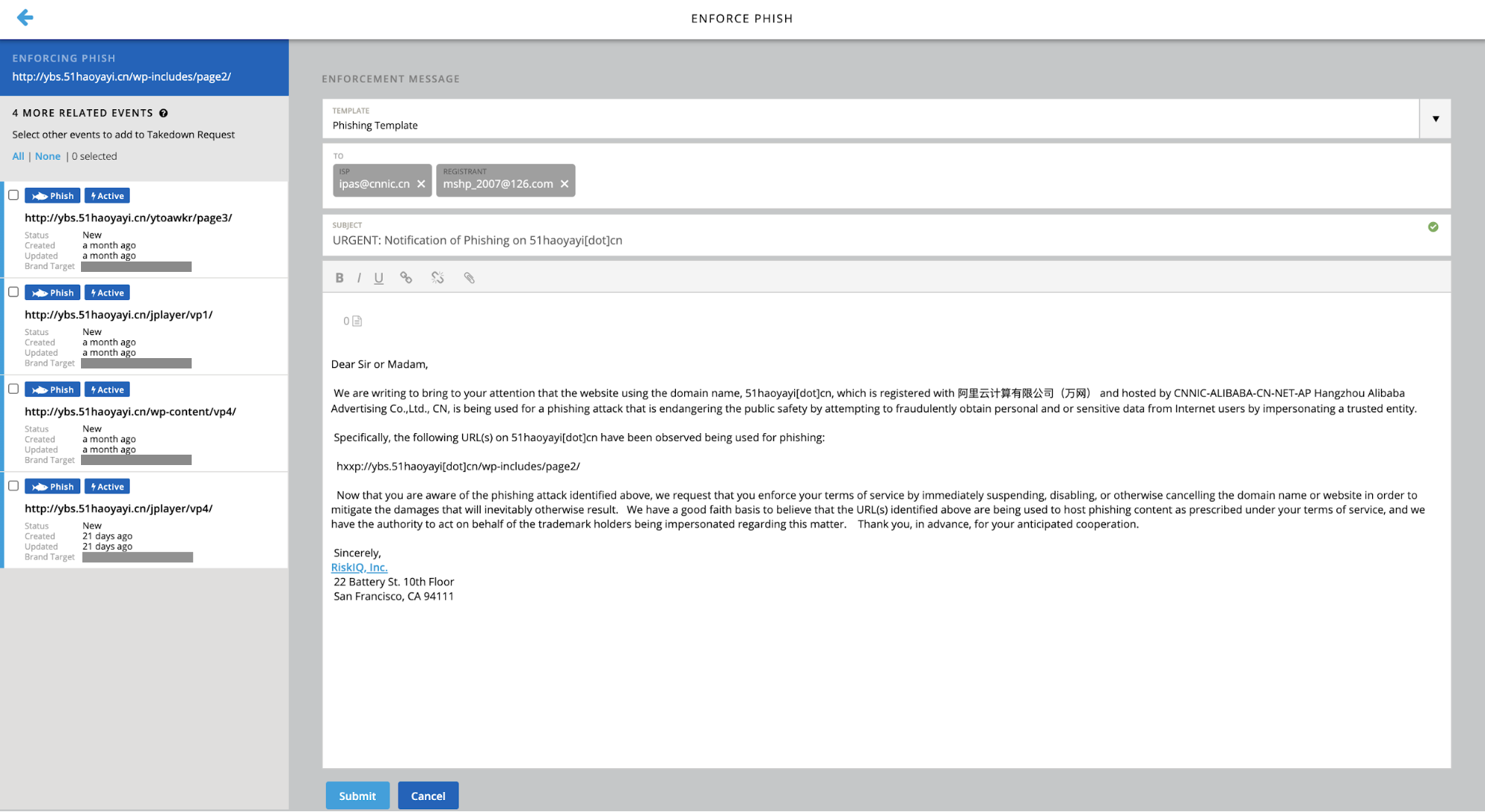 A solution that offers mitigation as a part of their service is a vital resource enabling you to quickly act when facing a brand threat. A web interface option with API access available to companies and their support teams is extremely handy when investigating detected events. In-app mitigation workflow, along with continuous monitoring of online resources, lets companies quickly take action, know when threats have been successfully remediated, and track event lifecycle metrics to report on threat response efficiency.  
i3 Services, Add-On To Any RiskIQ Product To Scale Threat Hunting:
In addition to our product suite, RiskIQ offers a range of services and immediate support provided by our Incident Investigation and Intelligence (i3) team. These services combine best-in-class technology with expert human analysis from former national security and intelligence officers and trained analysts, acting as a force-multiplier to maximize the value customers can gain from their investment in RiskIQ.
Reliable and consistent support for security teams

Nimble and able to act with immediate requests

Automated identification of vulnerabilities and exposures on the open web and dark web
Our i3 Analysts Share What You Can Do Now To Start Protecting Your Brand.
"A large part of what we do revolves around helping keep the public safe from being tricked by impersonators. Having updated trademark registrations, defensive registration of domains, and a solid, verified social media presence helps tremendously in our efforts to enforce upon impersonations, and it also helps the public better distinguish between legitimate and illegitimate sites and profiles."
In Closing:
Businesses could not have expected COVID-19 or the shockwaves that followed, but budgeting for threat intelligence that helps tackle the boom in brand threats must now be a top priority. While challenging, this represents an opportunity to reassess your security program for this new age in cybersecurity, revisit your budget, and supercharge your brand protection program.
WHAT OUR CUSTOMERS SAY
"What I like about RiskIQ is there is a dashboard that you can log in to at your convenience and see everything in one place.  On top of this the i3 team is quick to contact me when there is a digital threat as well we have monthly meetings and that have become critical to our team.  Not only do they monitor you but they give you advice on how to better protect the company.  It used to take us months to mitigate these incidents and knowing that we are now protected gives our company peace of mind for me."

Marina Beauregard, Vice President
Arcoplast