RiskIQ's Jenna Raby Named Winner as Top 100 Women in Cybersecurity for 2020 at Black Hat USA 2020
August 07, 2020
Cortex XSOAR Marketplace enables organizations to discover, share and consume security orchestration innovations from a global ecosystem to scale up automation
SAN FRANCISCO, AUGUST 7, 2020 – RiskIQ, the leader in attack surface management, today announced Jenna Raby, Senior VP, Global Financial Services and Emerging Markets, has been named a Top 100 Women in Cybersecurity for 2020 by Cyber Defense Magazine, the leading cybersecurity publication in the industry.
Raby competed against many of the industry's top, well-respected and well-known women in cybersecurity for this prestigious award. Cyber Defense Magazine searched the globe and chose Raby for her leadership skills and cybersecurity expertise.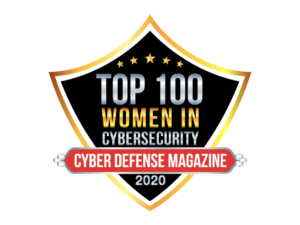 "We're pleased to name Raby as a winner among the Top 100 Women in Cybersecurity for 2020 during our second annual Black Unicorn awards. This award showcases women who are shaping the future of cybersecurity and have broken through the glass ceiling," said Judges Robert R. Ackerman Jr. of AllegisCyber, David DeWalt of NightDragon and Gary Miliefsky of Cyber Defense Media Group.
"We are excited to see Jenna named a Top 100 Women in Cybersecurity for 2020," said Lou Manousos, CEO of RiskIQ. "One of Jenna's major strengths is her ability to empathize, communicate, and anticipate what our customers need. Her goal, and her team's goal, is always to be a trusted advisor, resource, and long-term partner for our customers and we're so grateful to have her on our team."
About RiskIQ
RiskIQ is the leader in digital attack surface management, providing the most comprehensive discovery, intelligence, and mitigation of threats associated with an organization's digital presence. With more than 75 percent of attacks originating outside the firewall, RiskIQ allows enterprises to gain unified insight and control over web, social and mobile exposures. Trusted by thousands of security analysts, security teams, and CISO's, RiskIQ's platform combines advanced internet data reconnaissance and analytics to expedite investigations, understand digital attack surfaces, assess risk, and take action to protect the business, brand, and customers. Based in San Francisco, the company is backed by Summit Partners, Battery Ventures, Georgian Partners, and MassMutual Ventures.
Try RiskIQ Community Edition for free by visiting https://www.riskiq.com/community/. To learn more about RiskIQ, visit www.riskiq.com.
© 2020 RiskIQ, Inc. All rights reserved. RiskIQ is a registered trademark of RiskIQ, Inc. in the United States and other countries. All other trademarks contained herein are the property of their respective owners.
Contact
Holly Hitchcock
Front Lines Media